When Rihanna first burst onto the scene, the industry was starving for a new youthful face of the rebellion that could sometimes be confused with liberty. So a young island girl, with a little more sass than we'd seen in recent years, swayed her way into becoming a household name despite, or maybe because of, the perils of living her life in the public eye.
Despite her misfortunes (we'll get to those), some of the starlet's most explosive moments served as a testimony to her incredible strength and ability to liberate others. Rihanna's then simultaneous growing internet presence only further amplified her impact as she's since taken several strives to empower women through living as an example.
As a teenager, Rihanna bore the burden of living a sad truth. Her fairytale relationship became a nightmare, and, at that moment, her fanbase grew because of her strength. It took her some time to speak on the subject, but when she did, she allowed women across the world suffering from domestic abuse the chance to be heard. At the beginning of her career, she was a young woman, yet risking everything to tell her truth. Women worldwide watched as she poured out her emotions and showed compassion to the man she loved (whom she painted as broken).
After rediscovering herself, the star embarked upon giving us years of iconic outfits that would leave most of us drooling—like that Adam Selman gown at the 2014 CFDA Awards! It's not that a sheer ensemble had not been done before; however, on this night, as she was receiving the Icon Award, Rihanna let it be known that she desires to inspire others, but that she is not a role model and will do as she pleases.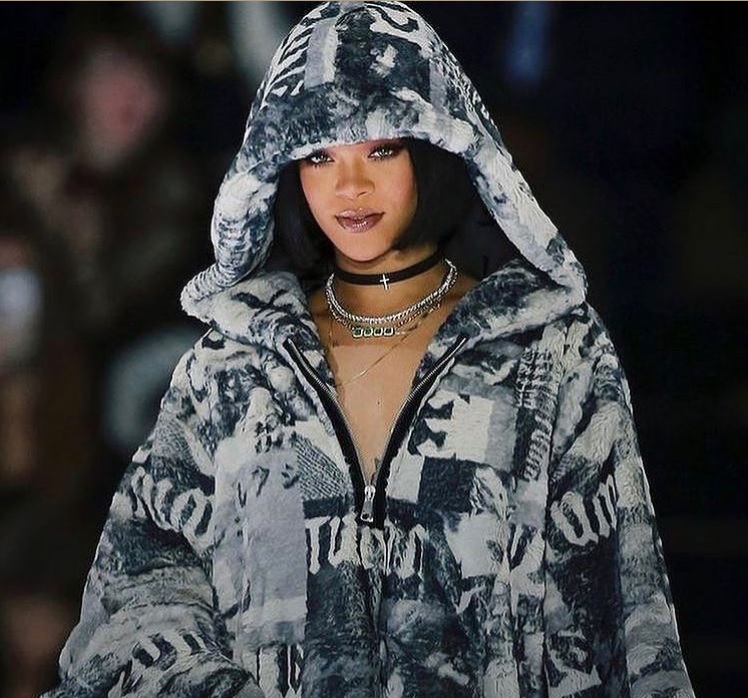 Some may say that several of her outfit choices have been ill-fitting for certain occasions, but that just added to her celebrity's mystique. In these fashion moments, Rihanna showed women to embrace being a woman and not conform to society's opinion on having class in fashion. While this moment was liberating, the reality is technique requires decorum, and even a public figure like Rihanna understands that—despite her risqué wardrobe selections.
As Rihanna's career continued to blossom, so did her business ventures, starting with her first-ever collaboration with Armani Jeans in 2011. According to Fashion United UK, that collaboration helped the Armani brand increase sales globally by 45-percent in a recession. She went on to do several more collaborations with brands like River Island, Manolo Blahnik, and Puma.
Through magazines, advertising, and album sales, she had already shown her market value. However, her partnership with Puma proved different; this time, she's getting more than just a commission. The Fenty Puma brand is credited with boosting Puma's women's shoe sales by 40-percent, showing another prime example of how Rihanna is an example of the ability to market herself and love for garments to craft authentic product fans would love. Similar to her, many women use their social influence to do the same.
Her most recent business venture with Fenty Beauty, by far, took the world by storm. Again, it's not that Rihanna is innovative but that she understands what her fans want. She sees what isn't available for them in the market place and uses her celebrity and business acumen to create it. Fenty Beauty celebrates all women; that unifying thread gave women such confidence, they rallied behind her brand as she rallied with them in the Women's March. In the first month, Fenty Beauty garnered $72 million in earned media value.
Rihanna came from humble beginnings overseas, made it in America, and then took over the globe. She understands her impact, and while she may barely be dressed, she wields her powerful influence with grace. A grace that only a woman who knows her worth can possess.